Gems Sensors Keep Off-Highway Vehicles Running Reliably and Safely
From harsh environments to high shock and vibration and extreme temperatures, Off-Highway Vehicles (OHV) are exposed to conditions that test their limits. And in this industry, time lost due to equipment malfunctions can be extremely costly and disruptive events.
However, with Gems accurate and reliable sensors and controls, you can count on dependable performance in harsh, demanding environments. This lets OHV end-users focus on getting their jobs done and spending less time dealing with downtime events.
As shown below, several Gems solutions are crucial to keeping the vehicle safe – from coolant warnings to the hydraulic braking system. Here's a look at the varied applications within the excavator example and the Gems solution deployed: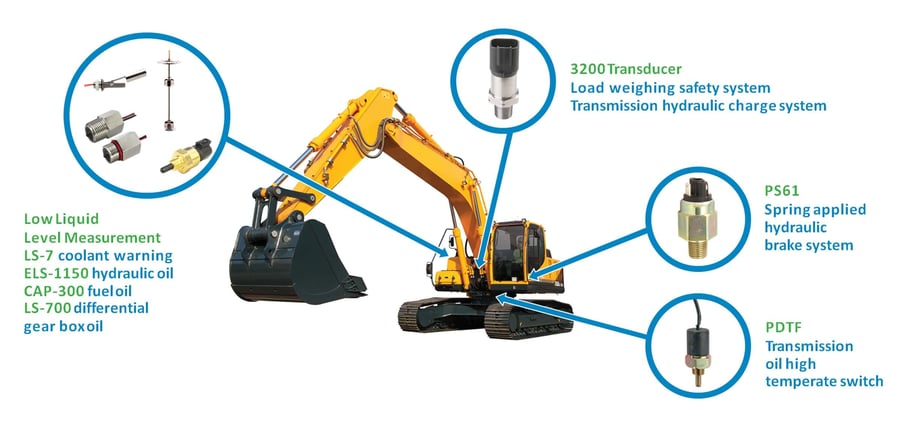 Load weighing safety system
Transmission hydraulic charge system
Spring applied hydraulic brake system
Transmission oil high temperature switch
Coolant warning
Hydraulic oil measurement
Fuel oil measurement
Differential gear box oil measurement
Other applications Gems products can be used for in Off-Highway Vehicles include: lube oil pressure monitoring, load monitoring, hydraulic pump monitoring, hydrostatic transmission pressure, over load protection, oil monitoring and fuel monitoring.
Gems Sensors & Controls has been continuously improving the design and manufacturing process of fluid sensors in the Off-Highway Vehicle (OHV) Industry. With decades of experience, Gems has a unique understanding of the most sophisticated applications in OHV, and delivers fluid sensors that measure up to today's - and tomorrow's - critical requirements.
For more information sign up for our Agriculture and Off-Highway Vehicle Emails: https://info.gemssensors.com/ohv-email-sign-up